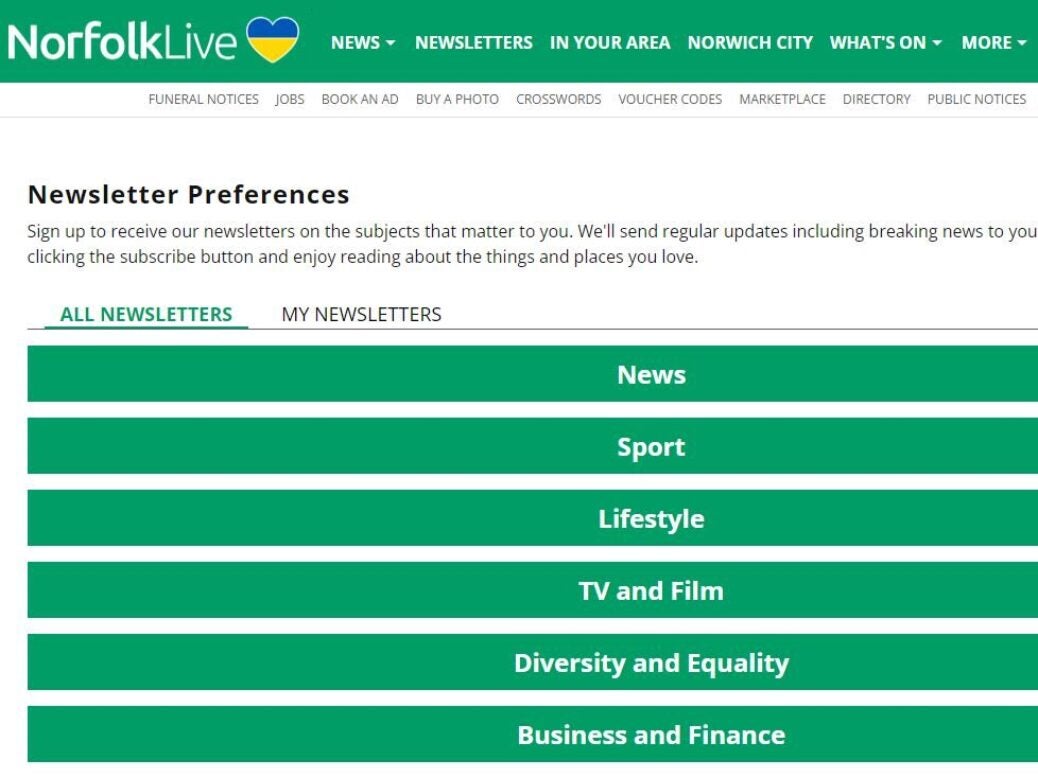 Nine Reach's regional brands have adopted a "newsletter-led approach", meaning websites are no longer their "infant" means of content delivery.
The publisher initially trialled this 'engagement model' with five of its 'live' brands in Norfolk, Suffolk, Bedfordshire, Buckinghamshire and Oxfordshire from November.
It is now following suit in Berkshire, Hertfordshire, Sussex and Hampshire while making 200 redundancies across the business, it announced on Wednesday.
There will be no job losses at the four sites switching to the newsletter model, the Press Gazette understands.
The new approach means that while these brands still have their own websites, the sites support newsletters and not the other way around. This strategy can be particularly successful with hyperlocal stories and means reporters can focus more on stories that are most relevant to a community, Reach said.
The first five sites that piloted the new model met their newsletter pageview goals and, in December, saw increases in loyal pageviews that Reach said it sees as an increasingly important metric. For this reason, newsletters have been seen as an important pillar of Reach's customer value strategy that seeks to use data to learn more about their audiences.
Content from our partners
The newsletters offered at each site include a mix of local newsletters and others shared across the Reach network; for example, in Norfolk, a daily news update will be promoted, as well as a trade newsletter from the South East and others for England football, the NFL, Bake. Off, LGBTQ+ stories and TV and film.
Paul Rowland, editorial director of Reach's Live Network, said: "We're not in the website business, we're in the business of reaching and engaging people.
"We know that newsletters are a brilliant tool for developing rich relationships with our most loyal readers, particularly at a hyperlocal level, so we'll be asking a selection of our news brands to focus on a smaller total of more stories attractive, with a supporting website.the newsletter and not vice versa.
"We know we can make these newsletters the must-have, must-have local news source in our communities.
"With that spirit in mind, however, we won't be wedded to newsletters forever, if we find there is another means of building a strong relationship with our audience. This is an exciting step to ensure we continue to maintain our local audience well served with news tailored to them."
While some of Reach's bigger regional brands, such as the Manchester Evening News and Liverpool Echo, haven't taken the same approach, the idea is that they can learn from the newsletter-led sites to inform their own offerings.
Newsletters have long been part of Reach's offering but, director of audience transformation Martin Little previously told Press Gazette, 2021 was the year they "really took off focus on newsletters in a way we haven't done before. This year is about the relationship we have with our audience and we need to use that better."
Substack-based newsletter Manchester Mill reached profitability just before its second anniversary in November with 1,600 paid subscribers. Sister papers the Liverpool Post and Sheffield Tribune also continue to grow.
The changes come as Reach revealed plans to make 200 staff redundant. The National Union of Journalists revealed the proposal includes cutting 102 editorial posts, meaning 253 journalists in total have been put at risk as the consultation period begins.
The NUJ also said 100 vacancies have been withdrawn, although around 180 remain open and Reach said there was no recruitment freeze.
Reach said the cuts and changes were necessary because of a difficult economic environment including rising costs and reduced consumer spending. Instead, it is pursuing a strategy that it said will ensure a "more sustainable and digitally led future".
e-mail pged@pressgazette.co.uk to point out bugs, provide story tips, or submit a letter to be posted on our "Letters Page" blog.