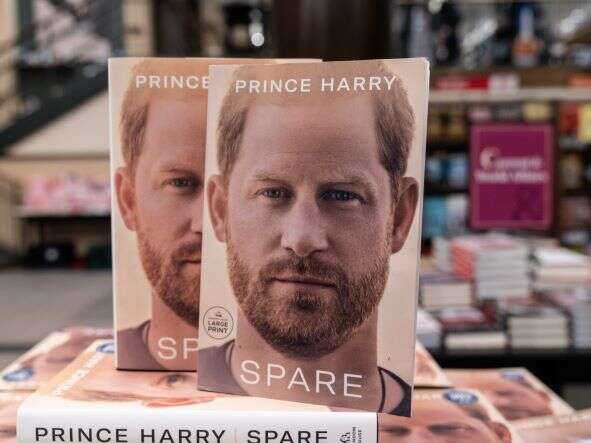 I'm sorry, Harry.
I don't agree with much of what the Duke of Sussex says about my industry. But at the same time, he has been subjected to a degree of what Tom Stoppard called "casual cruelty" by the media for which he deserves an apology.
Reading Spare it's hard not to feel sorry for a man who has been tormented by the media throughout his life and ill-equipped to deal with the attention his role attracts. Reading his book, it's clear that the Royals as a whole have been very under-resourced when it comes to media relations, given the size of their brand and the interest in it.
Prince Harry blames the media, with good reason, for his mother's death. Chasing paparazzi photographers was a contributing factor in the accident that killed her in Paris in 1997. Instead of rendering aid, some took pictures as she lay dying.
They were foreign photographers servicing media titles around the world, but Fleet Street had a role to play in buying their wares and not asking too many questions about how the images were sourced. They helped create a market that made her the most hunted woman in the world.
After Diana, Fleet Street vowed to mend its ways and stop using paparazzi images of the royal family.
Content from our partners
But a decade after her death, Harry reported that he was terrified after being confronted by 20 paparazzi as he left a nightclub. This surveillance has been an unwarranted intrusion throughout his life. There is no public interest in photographing anyone, no matter how famous, doing their shopping. Other members of the royal family have found an accommodation with the press (no pictures of William and Kate, for example, when they're out on private business) but for some reason this arrangement has always eluded Harry.
Two particular photographers were always present wherever he went, as detailed in his book, which he and his security detail found particularly disturbing.
He reveals that a number of relationships ended because their girlfriends could not cope with the intrusion, stalking and press interest not only for themselves, but for their family and friends.
Harry and William had their phones hacked by the News of the World, and perhaps other newspapers, in the early 2000s. It made them paranoid and suspicious of everyone in their inner circle, as stories that only a few people could know they entered the public domain.
There is no doubt that the tabloids used the services of private detectives to outsource the gathering of criminal information at times during Harry's lifetime.
At one point in his book, he reports that then-girlfriend Chelsy Davy found a tracking device under her car that seemed to explain why photographers were able to follow her wherever she went in South Africa.
Harry felt so miserable about the intrusion and press coverage that, when he was sent to war in 2007, he reported that he felt that: "If I die in Afghanistan, I thought, at least I'll never have to see another false headline, read another one. shameful lie about myself."
The surveillance and intrusion has extended into the modern era with Meghan and her family hounded by the media after her relationship with Harry became public.
But… the Royals are a global media brand. Much of the stalking and surveillance happened in the US and Canada, which have lighter privacy laws than the UK. The journalists and photographers harassing Meghan and her family were serving a global market that some UK tabloid publishers do not control.
Harry seems to conflate the actions of journalists with the millions who post on social media and carry smartphones. At one point in the book, Meghan returns home in tears after being recognized in a UK supermarket and photographed by several shoppers and passers-by.
Meghan has been subjected to the same kind of persecution and indefensible meddling that many members of the royal family have faced: Kate, Camilla and others. It must be said that they have handled it better. This may be blamed on a Palace media machine that failed to give Harry and Meghan the support they needed.
And much of Harry's anger might be better directed at the murky practicality of the royal spin doctors who have sometimes promoted the interests of other members of the royal family at Harry's expense.
In a world where journalists write about the things that interest readers, it's inevitable that the romance between Harry and Meghan will lead to hundreds of stories, not all of which Harry would like or agree with. Reading and dissecting each story would drive anyone to distraction.
Harry told ITV this week that the media "are at the epicenter of so many problems in the UK where people are suffering" and that the British press is "incredibly damaging to the UK".
Unfortunately, his rage has clouded his eyes before the enormous good the British press does, which far outweighs the harm done to it.
Given that Harry says media reform is now his life's work, you'd think he might seek a more rounded view, but I've yet to read anything positive Harry has to say about the press.
Harry fails to mention the fact that many of the media excesses he rails against were exposed as a result of The Guardian's investigative reporting on the hacking scandal.
The British Press Gazette Journalism Awards were founded 11 years ago to celebrate and promote journalism that serves the public interest.
It wasn't until 2022 that we recognized the Daily Mirror's Pippa Crerar, who helped bring down a Prime Minister by sometimes violating her privacy to expose corruption, dishonesty and hypocrisy.
The Daily Mail was recognized for using undercover media to expose a deadly smart highway scheme that wasted billions in public money and caused unnecessary deaths.
The Sun showed there can be a public interest in reporting what goes on in nightclubs when Noa Hoffman was named New Journalist of the Year for revealing that a drunk Tory boss had bumped into two men on a night out.
Hundreds of British journalists have risked their lives this year to cover Russia's barbaric genocide in Ukraine. He does all of them a disservice with his blanket condemnation of the media. The sound of a lens clicking may be a harbinger of death for Harry, but for millions of Ukrainians it is a reminder that the world has not forgotten them.
I'm sorry for what a small subset of my industry has done to Harry and others, although I think the UK tabloids are immeasurably better behaved than in the era from which most of their complaints come. But I'm also incredibly proud of what the British press does every day to make the world a better and more enlightened place.
e-mail pged@pressgazette.co.uk to point out bugs, provide story tips, or submit a letter to be posted on our "Letters Page" blog.