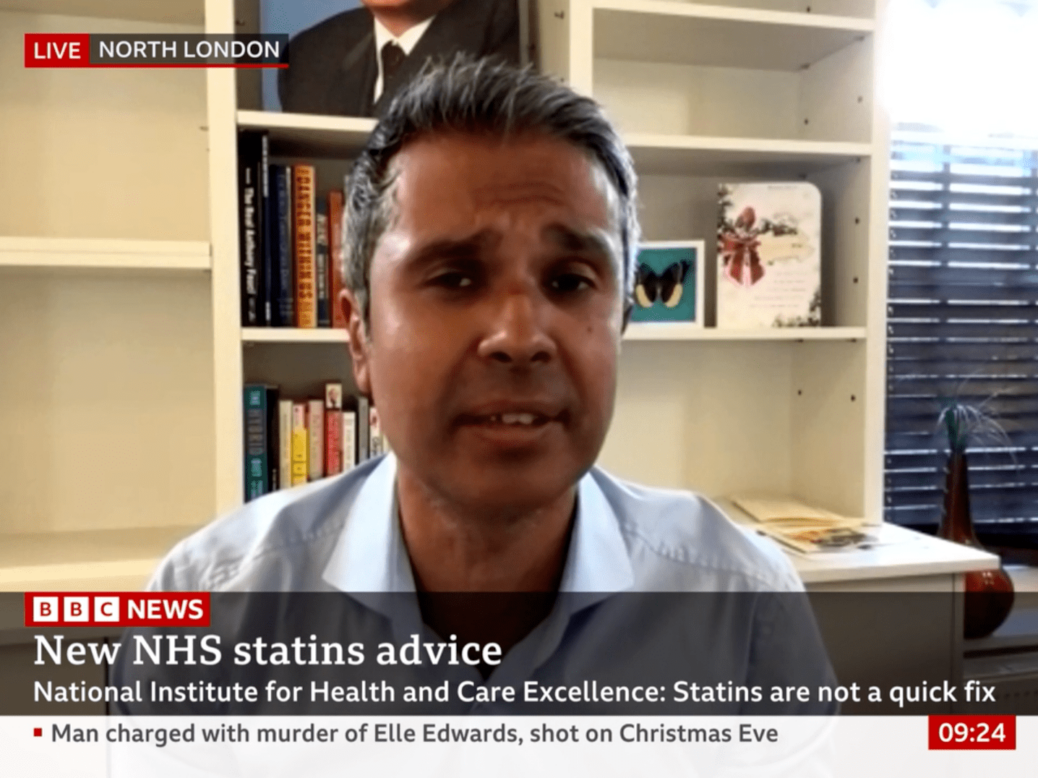 BBC News appears to have been caught off guard by a guest who used his appearance to call for a suspension of inoculations of the Covid-19 mRNA vaccine.
Dr Aseem Malhotra appeared on BBC News on Friday morning to discuss the new NICE [National Institute for Health and Care Excellence] guidance that more patients should be prescribed statins for their cardiovascular risk.
However, about three minutes into his appearance, Malhotra swung around to claim that the Covid vaccines that use mRNA technology, namely the Pfizer and Moderna jabs, were themselves a cardiovascular risk.
Malhotra said: "What is almost certainly, if I may just say this, my own research has found, and this is something that is probably a contributing factor, is that Covid mRNA vaccines carry a cardiovascular risk . And I've actually asked for that to be suspended pending an investigation, because there's a lot of uncertainty right now about what's causing the excess deaths."
Presenter Lukwesa Burak, apparently unprepared for the claim, asked: "So what you're saying in terms of the mRNA link to cardiovascular risk is that this has been medically and scientifically proven?"
Most of the peer-reviewed literature suggests that mRNA vaccines are safe. A recent meta-analysis identified a slightly increased risk of myocarditis after a second mRNA vaccination among younger people, particularly men, but the author of that article nevertheless said, "As a physician, I recommend strongly that people get a Covid-19 vaccine unless there are absolute contraindications, such as known allergies."
Content from our partners
Malhotra later tweeted a video of his seven-minute appearance shortly before 10am on Friday with the caption: "BREAKING BBC News – Cardiologist says likely contributing factor to excess cardiovascular deaths is Covid mRNA vaccine and the launch should be suspended pending investigation." At the time of writing his tweet had received 3.1 million views and the video 1.2 million.
The BBC News broadcast was a hit with vaccine opponents, who often complain of being out of the mainstream and anger towards the corporation in most other sectors.
A typical tweet quote from a Malhotra supporter read: "This is huge. If the BBC is willing to acknowledge the dangers of mRNA bashing, it's all over."
Another said: "Hard to believe MSM [mainstream media] finally admits vaccine damage."
From the opposite camp, one person commented: "Very, very poor judgment of the BBC to invite him."
A BBC spokesman said: "Dr Aseem Malhotra was invited to the BBC News Channel to discuss the latest NICE recommendations on statins. During the discussion, he made unsolicited claims about the mRNA vaccine from covid
"We then asked Professor Peter Openshaw, who represents the overwhelming scientific consensus on the vaccine, to be interviewed on air about this issue and he challenged and refuted the claims that had been made."
e-mail pged@pressgazette.co.uk to point out bugs, provide story tips, or submit a letter to be posted on our "Letters Page" blog.