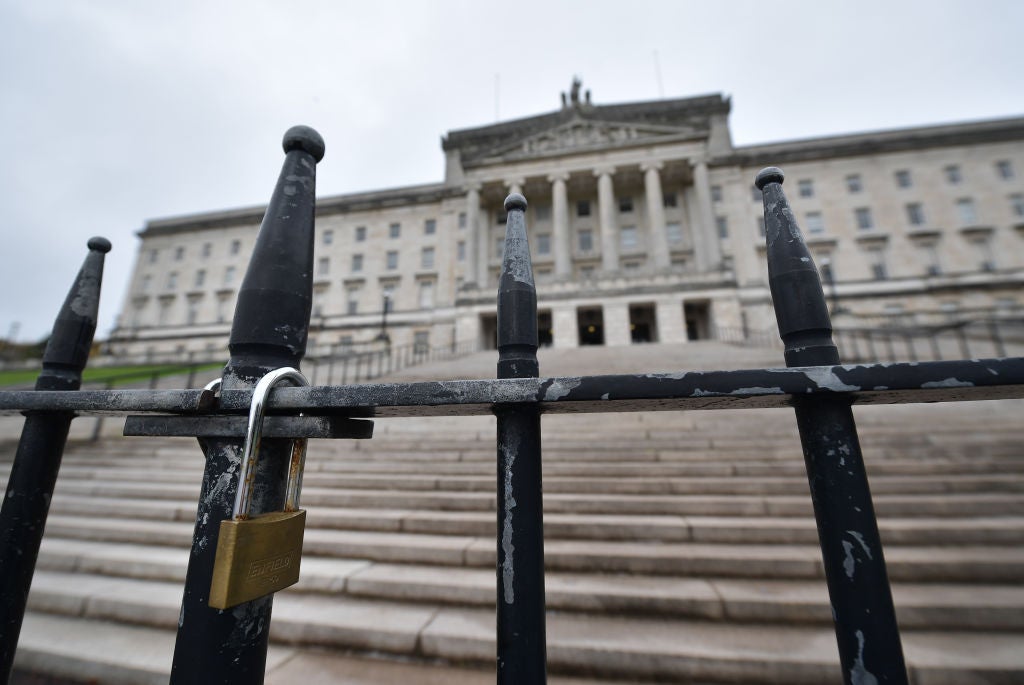 Leading the week
The ongoing political stalemate in Northern Ireland is the focus of attention next week, with all parties to Thursday (January 19) to reach an increasingly unlikely deal to restore their shared executive power.
The country has not had a fully functioning government since the DUP withdrew its support in protest over the Northern Ireland Protocol deals in February 2022. Although negotiations have been ongoing since then, the Foreign Secretary James Cleverly made a fresh push for an eleventh-hour deal this week by hosting cross-party talks in Belfast. The result was nothing short of chaotic.
Despite Cleverly's insistence to the contrary, Sinn Fein refused to take part after alleging that its leader Mary Lou McDonald had been deliberately excluded from the talks. The SDLP immediately followed suit before Sinn Fein deputy leader Michelle O'Neill launched a vicious attack on the government for acting in "bad faith" and showing "petulance".
It's fair to say then that Wednesday's events have hardly put officials on the firmest footing as they seek to bridge the gap facing Northern Ireland's political parties in just days. Efforts will begin Monday (January 16) Cleverly and Northern Ireland Secretary Chris Heaton-Harris meet European Commission Vice President Maros Sefcovic to take stock of progress around the Northern Ireland Protocol negotiations. Their discussions will then be relayed to officials meeting for the British-Irish Intergovernmental Conference in Dublin on Thursday (January 19)which could give Heaton-Harris the justification for a further extension being considered.
If Thursday comes and goes without a deal, Northern Ireland faces the prospect of returning to the polls for an early new election. April 13.
As a succession of union leaders wander in and out of government department offices to negotiate with ministers, the NHS, already suffering from staff shortages, shocking A&E and ambulance waiting times and a lack of resources , faces a second strike by RCN nurses. week Wednesday and Thursday (18-19 January) as part of an ongoing dispute over pay.
Content from our partners
Any hopes that the strike would be called off at the last minute were dashed last week after RCN general secretary Pat Cullen walked out of a meeting with Health Secretary Steve Barclay, claiming the government was refuse to talk to union representatives. Strike tensions likely to be exacerbated in Wales by ambulance strike Thursday (19 January), while health officials will no doubt be nervously awaiting the results of the junior doctors' vote on strike action by members of the HCSA union, which closes on Friday (20 January).
Looking abroad
The World Economic Forum, better known as Davos, begins Tuesday (17 January) in Switzerland While there are still a couple of "Special Address" slots to fill (and it's easy to imagine Ukraine's Volodymyr Zelenskyy taking one), there are plenty of international heavyweights who have already been confirmed for talk this year
European Commission President Ursula von der Leyen is on the move Tuesday, as does Belarusian opposition figure Sviatlana Tsikhanouskaya, who may get a little more attention when her treason trial begins in Minsk on the same day. German Chancellor Olaf Scholz, UN Secretary General Antonio Guterres and NATO Secretary General Jens Stoltenberg speak Wednesday (18 January)while the British press will follow closely Thursdaythe agenda, which features speeches from former Prime Minister Tony Blair, Labor leader Keir Starmer, Business Secretary Grant Shapps and Irish Taoiseach Leo Varadkar.
After a flurry of announcements about further assistance to Ukraine and a controversy over the re-export of German-made weapons, members of the Ukrainian Defense Contact Group will meet at Ramstein Air Base in Germany on Friday (20 January) for their latest round of discussions on aid to Kyiv following Russia's invasion last February.
The meeting will again be chaired by US Defense Secretary Lloyd Austin and Chairman of the Joint Chiefs of Staff Mark Milley, and discussions are likely to include preparations for the spring, when both sides are said to in conflict they plan major offensives. Meanwhile, NATO chiefs will meet in Brussels Wednesday and Thursday (18 and 19 January).
In Russia, Foreign Minister Sergey Lavrov holds his annual press conference Wednesday, a day before Russians celebrate the Orthodox Epiphany, which has historically seen President Vladimir Putin take part in the tradition of swimming in icy waters; Not doing so this year may fuel further speculation about his health.
Watch out too
January 16
Second reading of the anti-strike legislation in the House of Commons
The unions hold a "protect the right to strike" demonstration.
Andrew Bailey questioned by MPs on the BoE's Financial Stability Report
The Rwandan asylum case has been heard in the High Court
The Australian Open begins
January 17
Online security bill considered in the House of Commons

Royal Mail and Post Office chief executives questioned by MPs
UK unemployment data
Inquest opens into deaths of Plymouth shooting victims
Penny Mordaunt at the IfG Government 2023 conference

Elon Musk's securities fraud trial begins

Sergey Lavrov meets with the Iranian Foreign Minister
The session of the North Korean People's Assembly opens
January 18
UK inflation data
Keep the NHS going public
PMQ and EU bill in the House of Commons
Huw Merriman at the committee meeting on rail services
Launch of the Edelman Trust Barometer
January 19
Deadline for review of Scottish gender reform legislation
Report of the Joint Commission on the draft law on mental health
Messi and Ronaldo play in the PSG-Saudi Arabia 'all-star' match
The shortlist for the BAFTA Awards has been announced
January 20
Hearing in bankruptcy proceedings of FTX
Dolly Parton, Cyndi Lauper, Gloria Estefan, Belinda Carlisle and Debbie Harry released the single
January 21
Rachel Reeves and Ed Miliband address the Fabian Society's New Year conference
Constitutional referendum in Slovakia
January 22
Chinese New Year: Year of the Rabbit
Statistics, reports and surveys
January 16
ILO report on social and world employment prospects
Rightmove House Price Index
Registration of political donations
January 17
Universal credit statistics
Results from: Goldman Sachs, Morgan Stanley, Ocado
January 18
EU inflation
Rental prices of private homes
Results from: Alcoa, United Airlines, WHSmith
January 19
ONS data on excess winter mortality in 2021/22
NHS England Urgent and Emergency Care Weekly Report
2021 Census statistics on health, disability and unpaid care

Ofcom Adult Media Literacy Tracker

Bank of England Credit Conditions Survey
ONS data on people entering and not working (2016-2022)
Results from: Netflix, Procter and Gamble, Sage Group
January 20
UK retail sales
GfK Consumer Confidence Barometer
Results: Ericsson, Schlumberger
Anniversaries and awareness days
January 16
January 18
January 20
Six years ago: Donald Trump was sworn in as president
15 years ago: Breaking Bad first aired
January 21
January 22
50 years ago: Roe v. Wade decision of the United States Supreme Court
e-mail pged@pressgazette.co.uk to point out bugs, provide story tips, or submit a letter to be posted on our "Letters Page" blog.