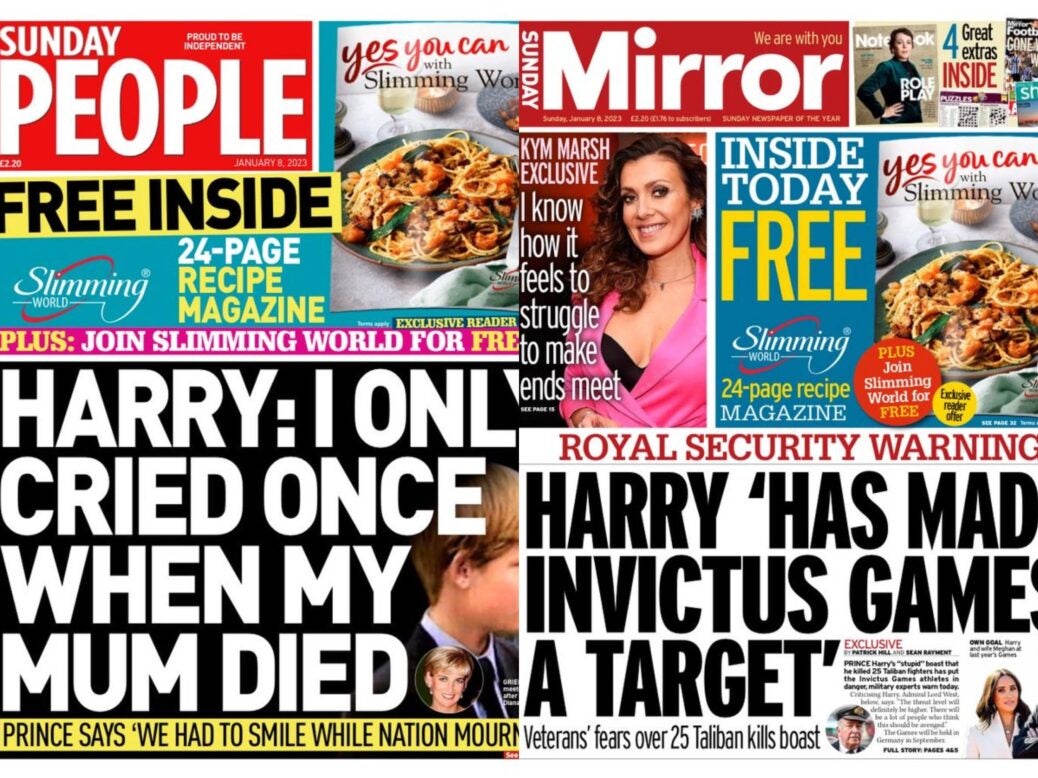 The Sunday Mirror and Sunday People newspapers are set to start sharing most of their content under new cost-saving plans on Reach.
Staff were told on Wednesday that the two Sunday tabloids would start sharing everything but the splash and pages four and five, the Press Gazette understands.
Some redundancies across the titles are likely to come under Reach's proposal to cut 200 roles at the company.
Press Gazette understands that part of the reason for the plan is to make savings on freelance copy and agencies to fill out the papers.
The Sunday Mirror and Sunday People have been under the same publisher since 2014, when their newsrooms, along with the Daily Mirror, were initially merged. All three titles are online at mirror.co.uk.
The Sunday titles are currently edited by Gemma Aldridge under editor-in-chief Alison Phillips, who also runs the Daily Mirror.
Content from our partners
The Sunday Mirror had an ABC-audited average circulation of 217,140 in November, while the People had 77,300. Pre-Covid, in January 2020, they were at 367,244 and 139,698 respectively, which is a 41% drop for the Sunday Mirror and 45% for the People in almost three years.
Both currently cost £2.20 and rely heavily on newsstand sales over subscriptions. Around 94% of the Sunday Mirror's circulation comes from individual sales compared to 99.5% for the People.
The Sunday Mirror was founded as The People in 1881 and was acquired by the Mirror Group in 1961. The Sunday Mirror began life in 1915 as the Sunday Pictorial and was renamed in 1963.
Reach CEO Jim Mullen told staff on Wednesday that "very difficult operational decisions and strong cost actions" were necessary due to a combination of "advertising weakness and prolonged cost inflation" creating a "double whammy" of challenges for the business.
According to the National Union of Journalists, some 102 editorial positions are expected to be cut by 200. In total, 253 journalists have been told their jobs are at risk.
Also under the plans, nine regional Reach brands are taking a "bulletin-led approach", with Live sites in Berkshire, Hertfordshire, Sussex and Hampshire joining those in Norfolk, Suffolk, Bedfordshire, Buckinghamshire and Oxfordshire, which started a test in November. There will be no job losses at the four sites making the change.
Some other regional sites that don't take the same 'a website that supports the newsletter and not the other way around' approach, for example the Live brands in Surrey and Kent, will also be tasked with prioritizing engagement over of the scale
e-mail pged@pressgazette.co.uk to point out bugs, provide story tips, or submit a letter to be posted on our "Letters Page" blog.