Elsewhere in entertainment, events and arts:
THEN: Corner comedy
The only thing not for sale at Mr. Kim's corner store is his family's heirlooms, but the large-scale projects underway represent a major challenge. "Kim's Convenience" by Ins Choi. Fayetteville theater company TheaterSquared opens its production of the Korean-Canadian comedy Wednesday, with shows at 7:30 p.m. Tuesday-Friday, 2 and 7:30 p.m. Saturday and 2 p.m. Sunday through Feb. 19 at his West Theatre, 477 W. Spring St., Fayetteville. Tickets are $20-$54. Call (479) 777-7477 or visit theatre2.org.
3-song season
Arkansas Public Theatre will produce three musicals for its 38th season in 2024. The season brief, explains Artistic Director Ed McClure, "will allow for dramatic upgrades and renovations" at the Victory Theatre, the company's home, at 116 S. Second St., Rogers.
The season opens Feb. 16-18 and 22-25, 2024, with "Into the Woods" (music and lyrics by Stephen Sondheim, book by James Lapine). Tryouts will be held on Dec. 11-12, 2023.
Some suggest:
◼️ "Rent" (book, music and lyrics by Jonathan Larson), April 12-14 and 18-21, 2024, with auditions Feb. 19-20, 2024.
◼️ "Kinky Boots" (music and lyrics by Cyndi Lauper, book by Harvey Fierstein, based on the motion picture of the same name, screenplay by Geoff Deane and Tim Firth), June 21-23 and 27-30, 2024, with auditions April 15 -16, 2024.
Call (479) 631-8988 or visit arkansaspublictheatre.org.
Pine Bluff weather
Art & Science Center of Southeast Arkansas701 S. Main St., Pine Bluff, will present seven plays in the 2023 season, starting with "The Play That Goes Wrong – High School Edition" by Henry Lewis, Jonathan Sayer and Henry Shields, Feb. 16-19 in the center's 232-seat Catherine M. Bellamy Theater.
Some of the list:
◼️ March 10-12 and 17-19: "Steel Magnolias" by Robert Harling, in the chair of 65 Adam B. Robinson Jr. Black Box Theater at ART WORKS at 627 S. Main St., Pine Bluff.
◼️ April 20-23: "Charlotte's Web" by Joseph Robinette, based on the children's play by EB White, Bellamy Theatre.
◼️ June 16-18 and 23-25: "The Last Five Years," music, lyrics and book by Jason Robert Brown, Black Box Theatre.
◼️ July 21-23 and July 28-30: "Rock of Ages," a jukebox musical by Chris D'Arienzo, featuring arrangements by Ethan Popp of '80s hits including "We Built this City,"https:/ /news. google.com/__i/rss/rd/articles/"I Want to Rock" and "Don't Stop Believing", Bellamy Theatre.
◼️ Sept. 15-17 and 22-24: "Over the River and Through the Woods" by Joe DiPietro, Black Box Theatre.
◼️ Dec. 15-17, "Razzle Dazzle," biannual fundraiser, Bellamy Theatre.
For more information, call (870) 536-3375, email lcollins@asc701.org or visit asc701.org/2023-season; to register for auditions, visit asc701.org/auditions.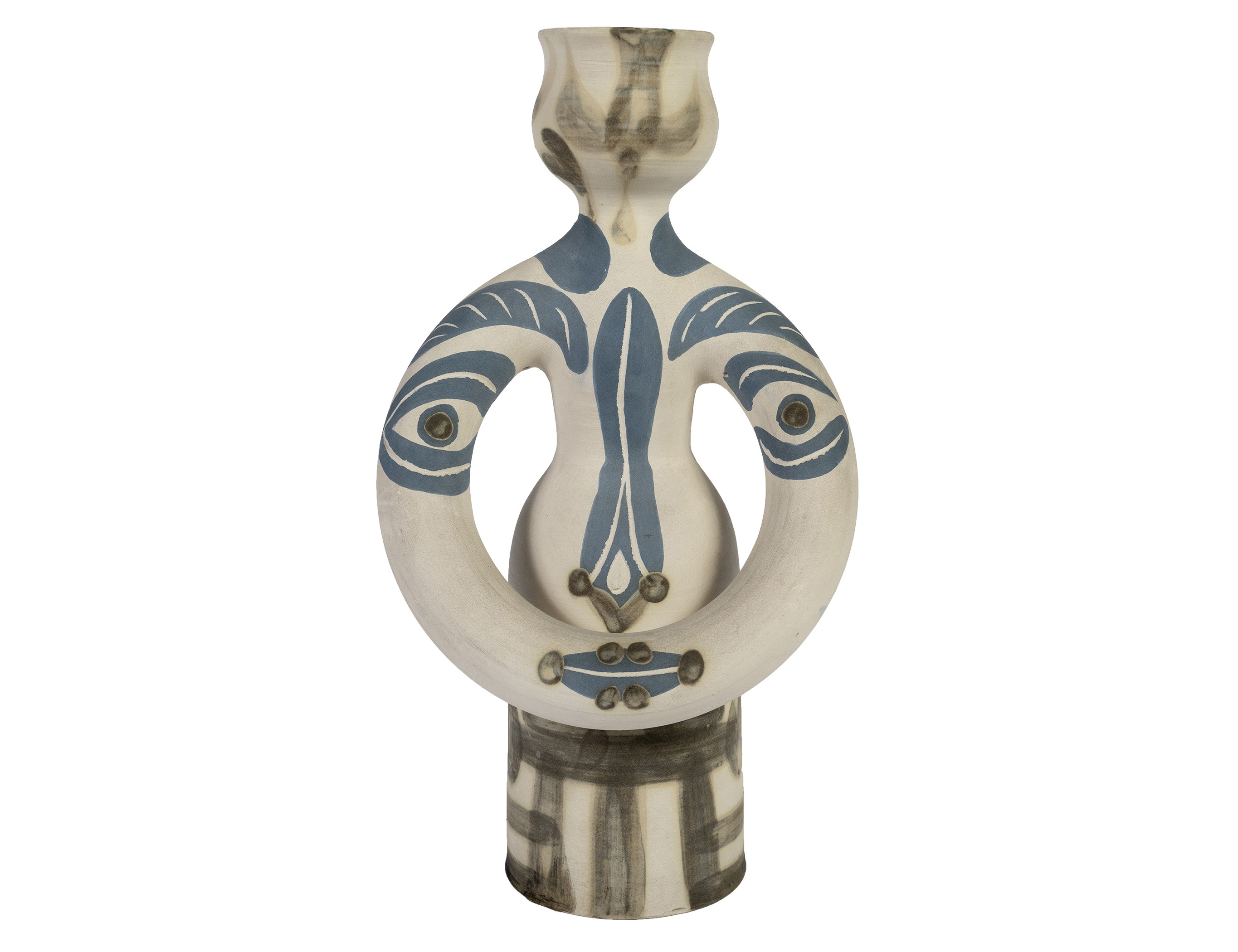 The Madoura vase is part of "Pablo Picasso: 25 Years of Ceramic Prints from the Rosenbaum Collection," which opens today at the Fort Smith Regional Art Museum. (Exclusive to the Democrat-Gazette) Art: Picasso in Fort Smith
The Fort Smith Regional Art Museum1601 Rogers Ave., Fort Smith, celebrating its 75th anniversary in 2023, is opening three shows today:
◼️ "Pablo Picasso: 25 Years of Ceramic Prints from the Rosenbaum Collection," 46 ceramic pieces that Picasso created in collaboration with George and Suzanne Ramie and artisans at their Madoura Pottery workshop in Vallauris, South of France, between 1947 and 1971, until April 23.
◼️ "Art Center to Museum: The Last 75 Years," through April 9, a journey through the organization's timeline and a 15-foot gallery of more than 300 photographs of people and events, stemming from a citizen-led effort to provide art exhibitions and art classes to the public in 1948.
◼️ "75 Years: The Eternal Collection of RAM," and through April 9, focuses on the museum's Permanent Collection of more than 500 pieces.
The museum will offer guided tours of the exhibits and various art classes will present exhibits and the history of the museum. Museum hours are 11 am-6 pm Tuesday-Saturday. Admission is free. Call (479) 784-2787 or visit fsram.org.
ETC.: Potluck & Poison Ivy
Poem and producer Paula Martin "heads" Potluck and Poison Ivy, 6 pm Thursdays at The Joint, 301 Main St., North Little Rock. Guest singers are The Salty Dogs. Tickets, $35, include a box dinner. Go to potluckandpoisonivy.org/buy-tickets.
Martin, a native of Pine Bluff, created and produced the television series "Tales from the South". He has published poetry, short stories and fiction in anthologies, collections, literary and literary magazines, and won national and international awards. He has also published two books and four poems.