CNN
–

Nearly three weeks after a traffic stop in Memphis led to the brutal arrest and death of the driver, police are expected to release body camera footage of the incident to the public.
Tire Nichols, a 29-year-old black man, was hospitalized after the Jan. 7 arrest and died three days later from his injuries, according to police. Five Memphis Police Department officers, who are also black, were fired after an internal investigation and are facing criminal charges.
Nichols' family and attorneys have met with police and city officials to review traffic footage of what they say is a brutal and lengthy assault that lasted several minutes after officers chased down the fleeing Nichols.
Memphis Police Chief Cerelyn "CJ" Davis criticized the actions of the officers, adding that other officers are still under investigation.
"This is not just failure," Davis said. "This is a human failure of another person. This incident was ugly, reckless and cruel. And apparently, when the video is released in the coming days, you'll see for yourself. "
Here's what we know about the time of the incident, the investigation from the authorities and the reaction of the Nichols family:
On January 7 at approximately 8:30 p.m., officers pulled over a vehicle suspected of reckless driving, according to a statement from Memphis police.
A "struggle ensued" between officers and the driver of the vehicle — identified as Nichols — who fled on foot, according to Memphis police. Officers caught up with him and "an altercation ensued," which led to Nichols' arrest, police said.
An ambulance was called to the scene of the arrest after Nichols complained of shortness of breath, police said, and was taken to a nearby hospital in critical condition.
On Jan. 10, three days after the arrest, the Tennessee Bureau of Investigation announced that Nichols had died from injuries sustained in a "use-of-force incident with police," according to a statement.
Following the traffic stop, the officers involved were fired — standard department procedure when an investigation into their use of force began, Memphis police said. The TBI and the Shelby County District Attorney's Office were also hired to investigate.
The initial findings showed the severity of the officers' actions during the stop, police said.
"After reviewing various sources regarding this matter, I have determined that it is necessary to take immediate and appropriate action," Chief Davis said in a statement released on January 15. administrative action is pending."
The agency should follow due process before imposing punishment or removing civil servants, the statement added.
In the days after Nichols' death, his family's attorney, Ben Crump, repeatedly said he wanted to release the body camera and surveillance footage of the traffic stop.
"This type of death in prison destroys public confidence if agencies don't act quickly," Crump said in a statement.
On January 18, the Justice Department announced that a civil rights investigation had been opened into Nichols' death.
"Last week, Tyro Nichols died tragically, days after he was involved in an incident in which Memphis Police Department officers used force during an arrest," Kevin G. Ritz, US Attorney for the Western District of Tennessee, said in a statement. .
Acknowledging the efforts of the Tennessee Bureau of Investigation, the US Attorney's office "in cooperation with the FBI Memphis Field Office and the Civil Rights Division of the Department of Justice, has opened a civil rights investigation," Ritz said, declining to provide details.
After an internal investigation, Memphis police identified and fired five officers who made traffic stops for violating several departmental policies.
Officers Tadarrius Bean, Demetrius Haley, Emmitt Martin III, Desmond Mills, Jr., and Justin Smith were fired for failing "to use excessive force, to intervene, and to render aid," the department said.
"The tragic nature of this incident does not reflect the good work that our police officers do, faithfully every day," Davis said.
A statement from the Memphis Police Association, the representative organization for police officers, declined to comment on the grounds beyond saying that the city of Memphis and Nichols' family "need to know everything that happened leading up to his death and what happened. He helped."
Attorneys for the family of Nichols Crump and Antonio Romanucci called the firing of the five officers "the first step toward justice for Turo and his family."
Two Memphis Fire Department employees who were among Nichols' "first patients" have also been fired, CNN Public Information Officer Qwanesha Ward told CNN's Nadia Romero.
After meeting with authorities to view unreleased police video of the arrest, Nichols' family and their attorney expressed their dismay at what they saw.
He was defenseless the entire time. He was a human piñata for the police. It was an unadulterated, shameless, non-stop beating of this little boy for three minutes. That's what we saw in the video," said Romanucci. Not only was it violent, but it was brutal.
"What I saw on the video today was horrible," Rodney Wells, Nichols' father, said Monday. "No father, mother must testify to what I saw today."
Crump described the video as "vile," "horrible" and "horrible." She said Ravaughn Wells, Nichols' mother, couldn't watch the first minute of the video when she heard Nichols ask, "What did I do?" At the end of the footage, Nichols can be heard calling for his mother three times, the lawyer said.
According to the preliminary results of an autopsy conducted by his family's attorneys, Nichols "had lost a lot of blood from the severe beating." CNN has requested the autopsy report, which Crump said will be available when the full report is ready.
The Shelby County District Attorney's Office has not announced if anyone will be charged in the case. District Attorney Steve Mulroy told CNN on Tuesday that his office is making sure all necessary interviews with those involved are done before the release.
"A lot of people's questions about what happened will be answered when people see the video," Mulroy said, noting that he hopes the city will release enough footage to show "the entire incident, from the very beginning. to the end."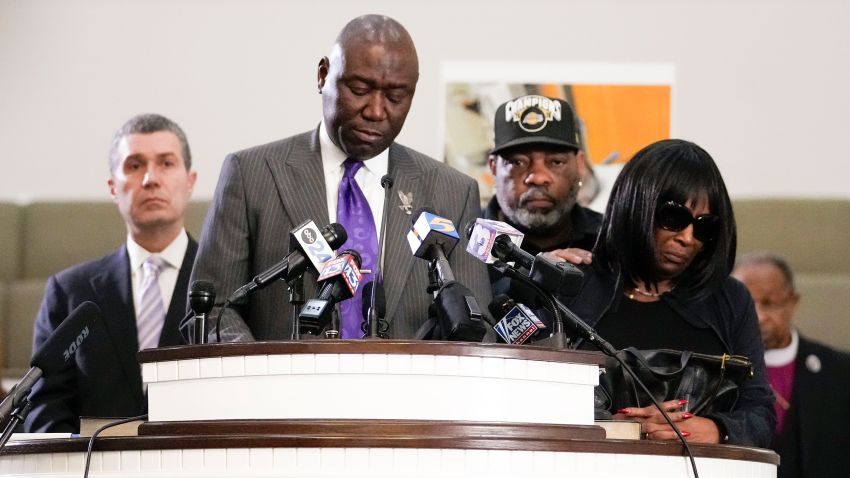 The family of Mr. Tire Nichols has spoken out after seeing the pictures of the police beating the police