Editor's Notes: This article contains videos of violence and violence.


CNN
–

Protesters across the US were holding marches and rallies on Saturday, a day after a video was released showing the brutal beating of Tyro Nichols by police in Memphis.
A recent video of police beating a black man to death earlier this month has outraged the nation. Protests began Friday night, with people in several cities taking to the streets and holding up signs bearing Nichols' name.
Saturday tours and meetings are expected in Memphis, Boston, Baltimore, Pittsburgh, Salt Lake City, Athens, Georgia, and Columbus, Ohio, among other cities. Most can be done in the afternoon or evening.
Protesters near Centennial Olympic Park in Atlanta on Saturday chanted Nichols' name and demanded justice. Then he passed through the town.
In Memphis, protesters late Friday blocked the Interstate 55 bridge near the city, chanting, "No justice, no peace," according to a CNN crew on the scene. No arrests have been made in connection with the protests, police said.
Before releasing the videos, Nichols' mother, Row Vaughn Wells, called for peaceful protests.
Memphis City Councilwoman Michalyn Easter-Thomas told CNN's Boris Sanchez on Saturday that before the video was released, there were fears of violent protests because of the lack of police response in previous incidents.
"And I think last night, we saw peaceful and direct protests in the city of Memphis, and I think that's probably because we have faith and hope that the system will work this time," Easter-Tomasi said.
Five Memphis officers have been fired and charged in Nichols' death.
In New York, clashes broke out between several protesters and police as demonstrations filled Times Square, video posted on social media.
Three protesters were arrested, one of whom was seen jumping on police fire and breaking a windshield, the New York Police Department said.
Protesters also gathered in Washington, DC, in Lafayette Square to demand justice for Mr. Nichols, according to television.
On the West Coast, protesters marched in Portland, Oregon, and San Francisco, carrying signs that read, "Justice for Tyro Nichols" and "killing cops."
Video of the Jan. 7 meeting shows "human filth," Memphis Police Chief Cerelyn "CJ" Davis warned before it was released to the public. Nichols died on January 10.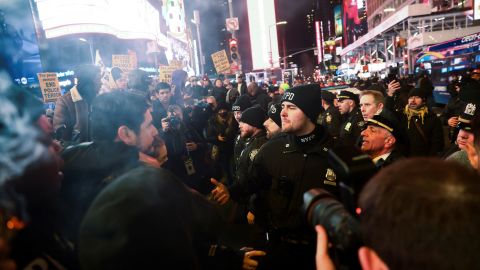 The arrest begins with a traffic stop for what police said was reckless driving and shows officers beating Nichols with a baton, hitting and punching him — including with his hands cuffed behind his body — as the boy. crying for his mother, video clips.
The encounter ends with Nichols slumped to the ground in handcuffs, leaning on a police cruiser unattended as officers circle. Nichols was later hospitalized and died three days later.
The video shows that 23 minutes had passed since Nichols appeared defeated and was on his back on the floor before the stretchers arrived at the scene.
The images of the abuse were released because the Nichols family "want the world to witness their pain and experience their pain," said Shelby State's Attorney Steven Mulroy.
"While there is nothing we can do to bring Tyro back, we promise you that we are doing everything we can to ensure that Tyro's family, and our city of Memphis, see justice for Tyro Nichols," added Mulroy.
The Memphis Police Department was unable to find any evidence to prove the cause of the reckless driving and said the video they encountered showed "disrespect for life, the duty of care we are all sworn to." Davis said.
Five former Memphis police officers involved in the arrest — who are also black — have been charged with second-degree murder and aggravated robbery, according to the Shelby County district attorney. They were identified as Tadarrius Bean, Demetrius Haley, Justin Smith, Emmitt Martin and Desmond Mills Jr.
Two Memphis Fire Department employees who were part of Nichols' primary care team have been suspended, pending the outcome of an internal investigation.
Also, two deputies with the Shelby County Sheriff's Office have been placed on leave pending an investigation after the sheriff saw the video.
Nichols' attorney, Ben Crump, said the family did not know two members of the sheriff's office were present when he was assaulted, and told CNN Saturday, "this is the first we've heard about it."
The Memphis Police Association, which represents the city's police officers, offered its condolences to the Nichols family and said it does not condone the harassment of citizens or the abuse of force.
The agency said it "has faith in the administration of justice."
"That belief is what we will lean on in the coming days, weeks, and months to ensure that all is disclosed," he said. "Mr. The Nichols family, the City of Memphis, and the rest of the country deserve no less. We pray for justice, healing, and closure for all involved."
According to Easter-Thomas, next week's City Council meeting will be "intense."
Pasaka-Thomas said he wants to make sure the police department knows the council supports them but expects the police to do their job "with the utmost integrity."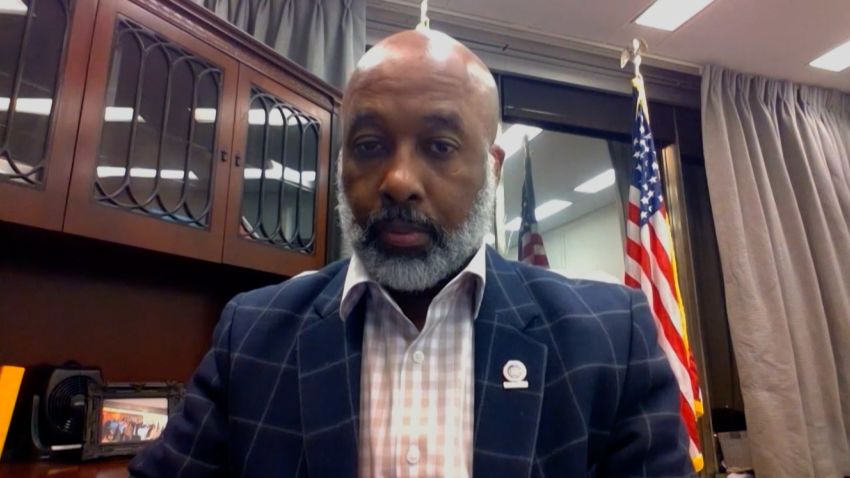 'We all know the future': Memphis lawmaker clarifies Nichols' video
The Memphis police chief compared the video to the 1991 Los Angeles beating of Rodney King that sparked days of riots in the city.
"I was in law enforcement at the time of Rodney King, and it's very similar to that behavior," Davis said.
Crump also made the comparison. "Beating, beating, beating, beating, flashing, pepper spraying. It's very disturbing," he said.
"The only difference between what my dad has now is the hashtags and the camera," Rodney King's daughter Lora King told CNN. "We have to do better, this is not acceptable."
"I don't think anybody who has a good sense of humor, anybody who respects people is OK with this," he said, adding that his condolences go out to the Nichols family and loved ones. "I'm sad we're in America, we're still here. I'm in disbelief."
A memorial service for Nichols' death has been set for Saturday in Los Angeles.
Martavius ​​Jones, chairman of the Memphis City Council, was concerned while discussing the video with CNN's Don Lemon on Friday.
"This was a traffic stop," Jones said. "It shouldn't have ended this way."
U.S. Representative Steve Cohen, who represents parts of Memphis, said the video was "fun to watch."
"They were not there to serve and protect, or even to hold; he was there to punish and rule," he said.
President Joe Biden said he was "angry and very hurt" after seeing the video. "It is yet another painful reminder of the immense fear and pain, suffering, and exhaustion that Black and Brown Americans face every day."
Governors from different regions have also expressed anger over the violence.